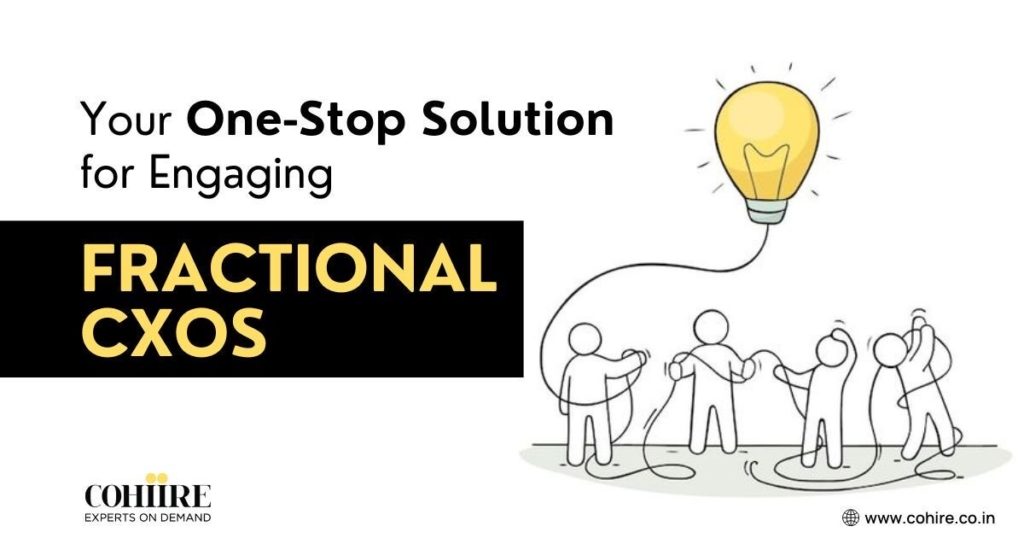 Organizations strive to remain competitive and adaptable in a world of rapid change.
The role of supervisors becomes even more vital when firms strive for expansion and change. Enter CoHire, a trailblazing platform whose ground-breaking Fractional CxO idea has revolutionized how businesses acquire top-level executive experience. This piece explores how CoHire is the ideal partner for onboarding fractional CXOs who will successfully move your company forward.
Topics covered:
The Rise of Fractional or Flexi CXOs
Unveiling the Flexi CxO: Who They Are and What They Bring
Benefits for Organizations and Flexi CxOs
Introducing CoHire: Revolutionizing Executive Onboarding
Conclusion
The Rise of Fractional CXOs
The traditional idea of having full-time, permanent leaders at the top of an organization is changing. Fractional CXOs are more common than before the gig economy took off, and the demand for specialized talents increased. These experienced executives are providing their expertise to organizations on a flexible basis. They have amassed a lot of knowledge over at least two decades.
For instance, startups seeking specialized marketing guidance can engage a Fractional CMO for targeted strategies without a full-time commitment.
Unveiling the Flexi CxO: Who They Are and What They Bring
A Flexi or Fractional CxO isn't just another consultant; they are seasoned professionals who meet specific criteria:
A C-Suite Leader or white-collar executive with extensive experience (typically, > 20 years).
An expert is engaging with organizations on a flexible or short-term basis.
A professional who excels in one or more disciplines, providing targeted skills and expertise.
Someone who thrives in shared roles, simultaneously contributing to multiple assignments or companies.
Someone is willing to take ownership of ensuring a desired objectives or outcome
An illustrative example of a Fractional CxO is a seasoned IT executive with over 25 years of experience, has held CTO positions in multiple technology companies.
How Fractional CxOs benefit organizations
Competitive Edge: Engaging with a Flexi CxO with over two decades of proven experience gives businesses a head start in competitive marketplaces.
Business Continuity: Flexi CxOs help maintain business continuity during periods of growth or transition.
Access and Affordability: CoHire matches organizations with experienced leaders in an accessible and affordable manner, addressing immediate leadership needs.
For instance, A growing software company aims to enhance its cybersecurity measures. Instead of committing to a full-time Chief Information Security Officer (CISO), they opt for a Fractional CISO with specialized expertise. The Flexi CISO evaluates its systems, implements robust security protocols, and trains the team. This strategic move safeguards the company's digital assets effectively while remaining budget-friendly.
Introducing CoHire: Revolutionizing Fractional CXO engagement
At CoHire, we embody the principle of 'quality over quantity' by focusing on precision in every process step. Instead of inundating you with numerous options, we meticulously curate and present a select pool of fractional CXOs that align perfectly with your requirements. We emphasize understanding your unique needs and delivering tailored matches that ensure a seamless fit, ultimately saving your time and resources while guaranteeing exceptional expertise and results.
Precise requirements lead to efficient candidate screening and personalized matches in our platform, thus effectively investing your time and effort. Our prompt introductions and accelerated onboarding minimize waiting times. At the same time, our administrative support ensures a seamless transition, allowing you to swiftly access the expertise you need and make the most of your valuable time.
Conclusion
In today's ever-evolving business world, flexibility has become an indispensable asset. Worry not if you find this concept confusing – we're here to provide clarity. The dynamic nature of modern business requires adaptable strategies, agile leadership, and innovative solutions. At CoHire, we specialize in connecting organizations with fractional CXOs who thrive in this flexible landscape, ensuring that your company remains agile, competitive, and well-prepared for the challenges and opportunities of tomorrow.