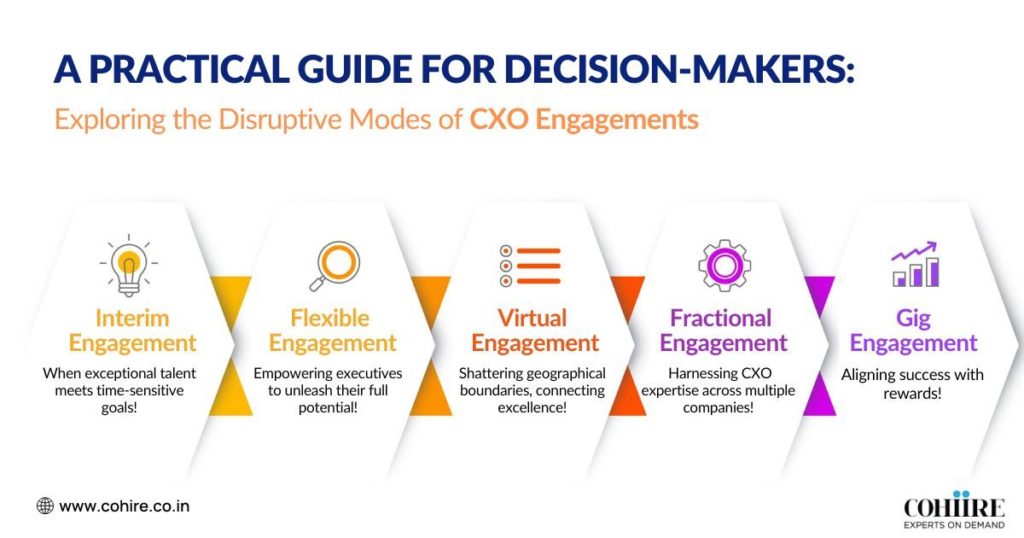 It's crucial to be well-informed about the various CXO engagement models available. This practical guide provides you with a clear understanding of different modes, enabling you to make informed choices aligned with your organization's goals.
From interim to flexible, virtual, shared and gig engagements, we'll dive into each model, highlighting their benefits and potential outcomes.
Get ready to navigate the world of C-suite executive engagements to empower your decision-making process.
1️. Interim Engagement: When exceptional talent meets time-sensitive goals!
Imagine a scenario where a senior executive is on a sabbatical for a specific period. During this crucial time, your organization needs someone to step in, take charge, and ensure continuity.
Or perhaps the company is undergoing a transformation, and a seasoned leader is required to navigate through this critical phase.
These situations require your organizations to have a mode of engagement focused towards achieving short-term objectives known as interim engagement.
It's the perfect solution when you require a leader to tackle immediate challenges and drive impactful change within your organization.
2️. Flexible Engagement: Empowering executives to unleash their full potential!
With flexible engagement, C-level executives have flexibility to work as and when their intervention is required, whether it's part-time or project-based.
This arrangement allows them to bring their wealth of experience while maintaining a healthy work-life balance. It's a win-win situation that nurtures productivity, creativity, and mutual satisfaction.
In this concept, a CXO shares their fixed time between two organizations, or they may choose to share their professional and personal time to achieve a perfect work-life balance.
3️. Virtual Engagement: Shattering geographical boundaries, connecting excellence!
In a virtual engagement, location becomes irrelevant as C-Suite executives can work remotely, leveraging technology to collaborate seamlessly.
Embracing this modern approach empowers companies to transcend geographical barriers and unlock the vast potential of a global talent pool.
It's an opportunity to embrace diversity, access specialized skill sets, and drive innovation without limitations.
4. Fractional Engagement: Harnessing CXO expertise across multiple companies!
Fractional engagement is a disruptive model that allows top-level executives to work with multiple companies simultaneously.
This cutting-edge concept empowers our top-level executives to be catalysts of transformation in a diverse array of enterprises (sometimes more than 2), each benefitting from their invaluable insights, leadership prowess, and strategic acumen.
This approach breaks away from the traditional notion of a full-time executive commitment to a single organization.
Instead, it leverages the executive's skills, knowledge, and experience to concurrently serve the needs of multiple businesses.
5. Gig Engagement: Aligning success with rewards!
In the gig-CXO model, C-level executives are motivated to achieve real results for the organization because they are rewarded based on their performance.
Unlike traditional fixed salaries, their pay is directly linked to their ability to solve problems, find innovative solutions, and drive measurable impact on the company's performance.
While each mode of engagement offers unique advantages, Flexi Engagement is the most preferred in the current business world.
Seamlessly blending the best elements of temporary, flexible, virtual, and shared engagement provides organizations with unparalleled benefits.
Numerous organizations are increasingly adopting this approach, and here are the top reasons why:
Agility: Adapt quickly to market changes and seize emerging opportunities.
Expertise on Demand: Access top-tier talent without long-term commitments.
Cost Optimization: Optimize resources and maximize return on investment.
Scalability: Scale operations up or down based on business needs.
Innovation: Foster a culture of innovation through diverse perspectives.
Speed: Drive rapid decision-making and execution with experienced leaders.
Gaining a comprehensive understanding of different executive engagement models allows one to make strategic decisions for their organization. By exploring the nuances of temporary basis, flexible, virtual, and shared engagements, one can choose the right fit that aligns with their company's unique needs.
Flexi Engagement is paving the way for agile leadership in the future. Whether it's flexi basis, virtual, or shared engagement, each approach brings its benefits. However, Flexi Engagement, with its seamless blend of versatility and adaptability, emerges as a top choice for companies aiming to thrive in an ever-changing business landscape. Embrace the power of
Flexi Engagement and unlock a new era of agile leadership for your organization.
Embrace the power of informed decision-making and drive your organization towards success.