ATTENTION!
GROWTH STAGE STARTUPS AND
SMEs
3 WAYS
TO PUT
YOUR
BUSINESS
ON THE
FAST
TRACK.
1

Tell us about your business problem

2

Assess and choose from our handpicked experts

3

Achieve growth milestones
TALK TO US
GET TOP NOTCH EXPERTS
TO SOLVE CRITICAL
BUSINESS PROBLEMS.
AND FAST TRACK YOUR
GROWTH.
Good news. Now you can hire the experts you need to solve your business issues without hiring them on your payroll.
Welcome to Cohiire. A team of experts on demand.
Available for any business need, anywhere in the world
Cohire the right experts at a cost lower than their CTC
175+ EXPERTS.
ACROSS
DOMAINS.
OVER 2000+
YEARS OF
EXPERIENCE
IN LEADING
COMPANIES.
BUSINESS CHALLENGE
Vedantu, an ed-tech brand, was looking for a senior resource to head their marketing operations.
COHIIRE SOLUTION
We helped Vedantu get the right Marketing Expert who could strategize, plan and execute solutions across media for a period of 3 years.
RESULT
During this 3-year period, Vedantu grew by 100% year on year
SUCCESS STORY
SUCCESS STORY
BUSINESS CHALLENGE
Appsian, an ERP security company based in the USA, was struggling to find the right WCAG expert
COHIIRE SOLUTION
We helped Appsian find the right expert within just 3 days.
RESULT
Appsian built a strong go-to-market asset pipeline in record time.
BUSINESS CHALLENGE
One-assist wanted to transform its customer experience and rating.
COHIIRE SOLUTION
We helped One Assist identify process gaps and re-engineer the consumer journey
RESULT
Customer satisfaction as measured by NPS score went up from -30 to +50 in nine months' time.
SUCCESS STORY
WHAT OUR CLIENTS ARE SAYING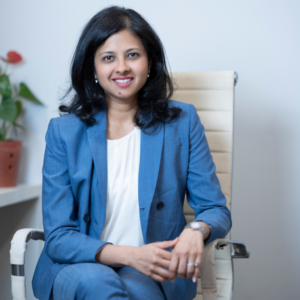 Neha Bagaria
Founder & CEO, Herkey
It has been a great experience working with COHIRE.  They truly live up to their tagline of "Experts on Demand".  We have found some great experts in diverse fields to work closely with our internal team to build systems and processes for scaling up.  It is great to see them pioneering the concept of Fractional CXOs in India because the concept helps startups like us in solving business problems with much more speed, agility and flexibility.
Rahul Madke
Founder & CEO,
Techknomatic Services
Cohire actually delivered more than what they promised. They helped get answers to all our questions with proficiency and we got what we were looking for in an interim CSO role & beyond
Girish Rao
Chairman & Managing Director,
Vidal Healthcare Services Pvt. Ltd.
For a company like Vidal Health it made a whole lot of sense to work with COHIRE. The experience that Outsourced CMO brought in helped us bring in economy of scale along with understanding of digital marketing space. We have developed a great working relationship with COHIRE and their dedication to our business needs is evident in their work.
ANAND INAMDAR
CEO & Product Owner,
Amoeboids Technologie
We are all techies here at Amoeboids, without much of an expertise in the marketing function. It made sense for us to get help from an experienced campaigner without taking on the risk of a bad hire. COHIRE is a perfect concept for growing companies like ours. We plan to continue with CoHired CMO leading our Marketing efforts & helping us build an in-house team.
Vamsi Krishna
CEO & Co-Founder,
Vedantu
Vineet is a very proactive person who comes from a strong Brand and PR background. I worked with his COHIRE model with great results especially during our early stages when we did not have to engage a full-time person. We gained access to a person of a very high caliber without wasting time and money. I would highly recommend Vineet's COHIRE* model for any startup looking for branding and PR.
Mr. Deepu Chandran
CEO & Co-Founder,
Pikkol
I feel that COHIRE is a solution that modern day business will do well to consider, especially those looking to scale up fast at low costs.
Gaurav Dhawan
CEO & Co-Founder,
WealthApp
Vineet at COHIRE has been associated with us for long. We have found the engagement extremely fruitful. They fill in very well as an in-house marketing team and align themselves fully with our business interests. Vineet has expertise across all aspects of marketing and in addition to crafting and executing our marketing strategy, he is helping us build and mentor an in-house team. Also, OCMO does hands-on liaising with all stakeholders to maximize the ROI. COHIRE is highly recommended for all startups!
Preetam Kothapally
COO & Co-Founder,
INCX
COHIRE is a concept which is quite beneficial for startups like ours as they have some experienced marketing professionals. The best part is that the professionals are mature enough to amalgamate with the existing team in a very short time to create a much powerful core team which is boon for company. They were able put across marketing plans towards Digital marketing, market penetration, as well as market adaptation much within the framework of company overall business objectives making it a perfect fit for startups like ours. Thanks to the COHIRE team on board, our Exchange Platform is perfectly positioned for future growth.
Ankit Manglik
CFO & Co-Founder,
travelspice.com
Vineet helped Travelspice.com formulate a marketing plan and give a strong marketing strategy to the company. I think working CMO is essential to a startup as one of the key challenges is to gain customers and the insights and experience a senior person from the field can bring can be an enormous help. With cash-flow constraints it's a good idea for a startup to work with a CMO on an outsourced model. Vineet made himself part of the team and was fully committed to the company, sometimes it didn't seem that he was not working full time for us, he even helped us after our contract with him finished.
Prakash Suratkar
Vice President,
Innorel Systems
From strategy to last-mile execution Vineet was with us through the entire journey. I have no doubt that as COHIRE he and his very capable colleagues can add unique value to companies that wish to grow fast on small spends.
Jayakrishnan Rajagopalan
COO & Co- Founder,
mVikarsha
Vineet came quickly to grips with our needs and was therefore able to contribute dynamically as a team member. Along with his own skills, he brings with him a vast network of proven resources from his long years as a senior marketing professional at several blue chips.
Abhijit Gangoli
CEO & Co- Founder,
Demand Farm
As a rapidly growing SaaS based start-up, bringing in strategic talent as of yesterday is critical to our success & more so when we are in fund raising stage. We were looking for an Interim C level Marketing expert as we didn't wanted to hire a full time CMO atleast till the next fund raise & that is when we got to know about COHIRE
When we started to engage with COHIRE , I was immediately given an option of C level marketing expert with 2 decades of experience & withing 2 weeks of start of engagement the marketing expert was on boarded in our company.
I strongly believe COHIRE is a perfect solution for any fast growing Startup who wants instant C level talent at an affordable cost to solve their business problems in near & mid term.
Shayak Sen
Entrepreneur & Design Specialist
Vineet's years of experience helped us negotiate the best rates, the best creatives and the best spots across all media. As a result we were successful in creating a great brand recall at a very reasonable price. He is perfect for any growing organization looking for someone to lay a solid marketing foundation
WHY CLIENTS TRUST US
1

We have

built the foundation in startups that are now valued at 1billion USD

2

We have

solved complex business performance issues in process, people, policy and platform domains.

3

We have

strategized with startups and helped them acquire the next round of funding

4

We have

executed critical projects for Rs 250 crore plus organisations

5

We have

accountable experts backed by a committed organisation
ABOUT
Vineet Arya is an entrepreneur and marketing whizz with 24 years of experience. Having worked with some of the marquee organizations — Tata Power, Sandisk India and AMD Inc among others, Vineet has led and executed needle moving projects that positively impacted the top line and bottom line. He specializes in GTM initiatives, integrated marketing strategy development, channel partner management, media planning and brand management. Through Cohiire, Vineet is pioneering and establishing the concept of Gig CxO and transforming the way companies hire senior management workforce. He also serves as a mentor to early- and growth-stage startups, for NASSCOM 10,000 startups, Dept. of IT, BT, and S&T by Govt. of Karnataka, IvyNext, Wadhwani foundation & Atal Incubation Center of BIMTECH in an effort to give back to the community.
MEDIA
Published in : YOURSTORY
Why every startup needs to hire a gig CxO to provide interim leadership
Read more… Read article
View All Media
BLOGS
In the ever-evolving business landscape, the conventional practice of employing fractional CxO's has begun to give way to a more adaptable and creative strategy. These highly qualified executives provide...
Read article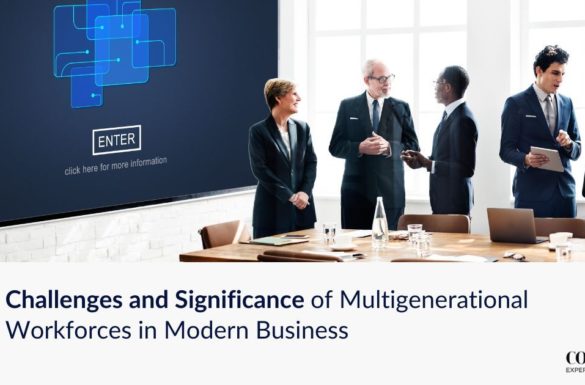 One of the most captivating narratives of today's dynamic business arena unfolds as multigenerational perspectives and values converge within a workplace. The interplay between Baby Boomers, Generation X, Millennials,...
Read article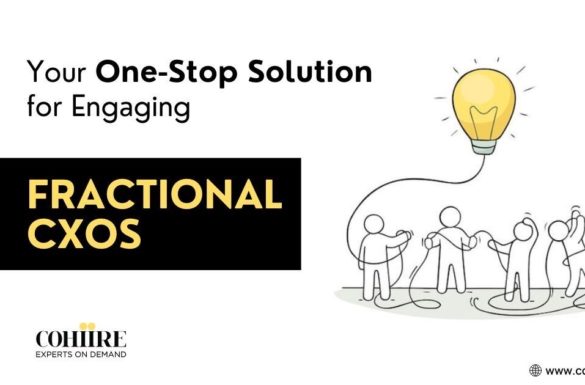 Organizations strive to remain competitive and adaptable in a world of rapid change. The role of supervisors becomes even more vital when firms strive for expansion and change. Enter CoHire,...
Read article
It's crucial to be well-informed about the various CXO engagement models available. This practical guide provides you with a clear understanding of different modes, enabling you to make informed...
Read article
In the modern business landscape, staying ahead of the competition requires strategic vision and expertise. Fractional Chief Experience Officers (CXOs) have emerged as a game-changing solution for companies seeking...
Read article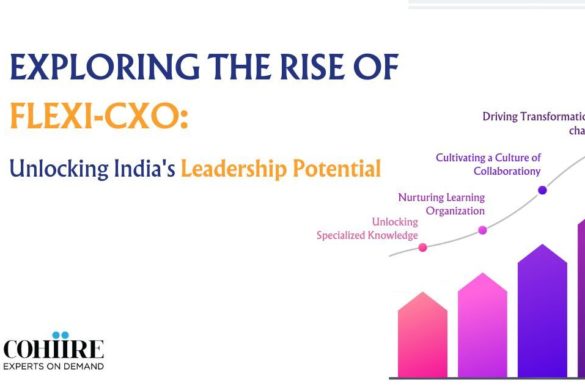 Traditional leadership models are being challenged by innovative approaches that embrace flexibility and adaptability. One such approach gaining momentum globally is the Flexi-CXO (Chief Executive Officer) concept. While this...
Read article
View All Blogs
TO JOIN OUR TEAM AS AN EXPERT,
POST YOUR DETAILS HERE