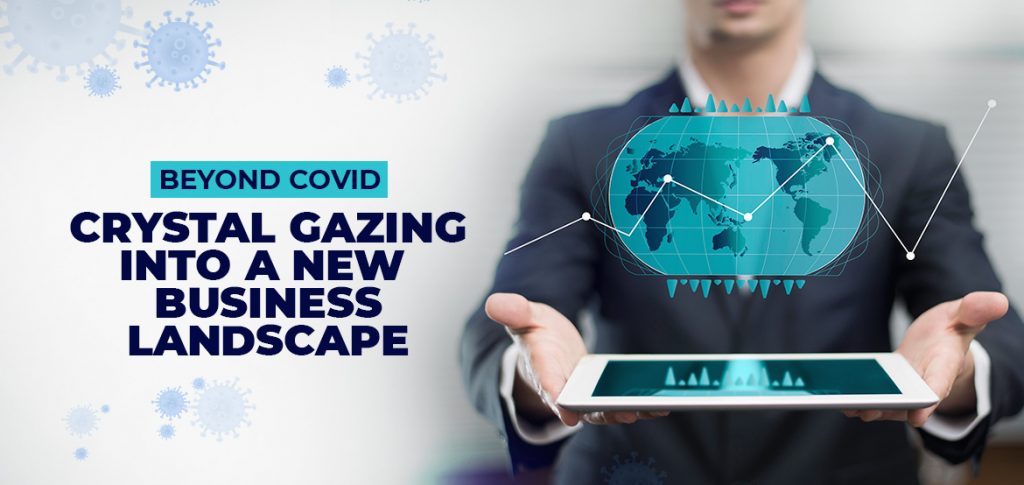 "Nothing is so painful to the human mind as a great and sudden change," said Mary Wollstonecraft Shelley in the Frankenstein. Well, we certainly witnessed an invisible Frankenstein raise its head this year, striking deathly blows in a relentless sweep across the globe. But while sudden changes can cause cataclysmic repercussions, change by itself is not such a bad thing; in fact it is often welcome in many cases. Once the winds of change settle down, the trail they leave behind can often lead to new possibilities.
So now as the year ends and the world looks back on all that the Coronavirus brought in its wake, it is the inevitability of change across all spheres of our life that is most apparent. And while consensus is hard to find on most things related to the Coronavirus, largely because it is Novel, what is beyond a shadow of doubt is that, businesses starting 2021, will look very, very different from before.
Faster, smarter growth
There is growing universal consensus that under the duress of the virus, the world has accepted positive changes in six months that it might otherwise have taken an age to accept. So, even as the pandemic recedes, it is leaving behind a positive and promising trail.
A McKinsey report cites a global survey of more than 800 executives to conclude that companies are prioritizing business building for organic growth, launching new businesses at a faster rate and are also growing faster. It says that the strongest companies are also reinventing themselves through "next normal operating models, capitalizing on this malleable moment and the resulting spread of agile processes, nimbler ways of working, and increased speed and productivity".
According to a PwC report called 'How business can emerge stronger' based on a CEO Panel Survey, 78% of surveyed business leaders chose remote working as a priority area as far as long term business model change was concerned as a result of Covid, 54% chose gig economy and 76% automation.
Further, a report by HLB, the global advisory and accounting network, shows that C-suite executives are forced to shift their focus towards more flexible, mobile and cloud-enabled models.
The digital-human hybrid model
Through all these changes what stands out is of course the seamless intersection of digital and physical/human modes of doing business. In the months and years to come the physical presence of business is in fact likely to shrink to a fraction of its earlier size, while productivity increases alongside by many times.
Industry reports show that CEO across regions and industries have realized that enhanced digitization gives the necessary agility to navigate unprecedented crisis. As the PwC report concludes, the rapid adoption of next-gen technologies will "set a precedent, for organizations to navigate future cycles of challenge and prosperity". In fact, one of the take-aways the report lists as part of its suggestions to rethink business models is the need to invest in digital tools that will sustain resilience.
Redefining the workforce model
Digitization also implies a change in the way workforce management can be imagined and implemented. For example, one of the other recommendations offered by the PwC report is to build a flexible business and workforce plan; the essence of it being that the focus on greater flexibility is not just an outcome of a crisis but is in fact the natural progression towards a more efficient working model. To arrive at such a model would need some out of box thinking, especially when it comes to hiring and retaining C-level professionals. For example, a practice like Co-Hiring, wherein a senior management executive is hired to work remotely, with the freedom to engage with other non-competing organizations, can result in significant savings, resource optimization and therefore efficiency for the organization. This would mean going past myths surrounding such new practices and realizing that ultimately what matters is what works, especially when change is the need of the hour.
We are indeed living in times when powerful neural engines are taking over in collaboration with the human brain and a whole new world of life, work and business promises to come into being, a world ruled by intelligence, intuition, instinct and imagination, none of which would need office space!
What's more, to mate with electronic cells, which is all that would be needed, humans would never have to throw themselves across cities in gas guzzling cars on jammed roads. To lead, teach, drive, monitor, produce and deliver…all they would need are small portable gadgets. In this new world, instead of plush corner offices, it may be possible for CXOs to lead businesses from their homes. Bedrooms may in this time replace boardrooms. This is not a leap in faith but an unfolding reality. Welcome to the new World Of Work, where agility, flexibility and innovation are the real benchmarks.